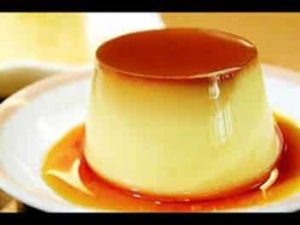 Level of Difficulty: Simple
Prep time: 20 Minutes
Refrigerate: 1-2 Hours
Make 2 servings
Ingredients:
Water:  ½ cup
Nature's Charm Evaporated Coconut Milk:  ½ cup
Nature's Charm pure coconut water:  1/3 cup
Nature's Charm Sweetened Condensed Coconut Milk:  2 Tea Spoons
Nature's Charm Coconut Caramel Sauce:  2 Tea Spoons
Agar agar Powder:  ¼ Tea Spoons
Directions:
At low heat, put Evaporated coconut milk, water and sweetened condensed coconut milk in a pot and stir well.
Mix the agar agar powder with coconut water in a separate bowl and pour the mixture into the pot. Continue to stir until boils.
Once boiled, turn off the heat and rest to cool down for 10 minutes.
Pour into a small cup and refrigerate for 1-2 hours till set.
Before serving, pour the Coconut caramel sauce on top to make a perfect touch.
Enjoy it with your loved ones.

Print